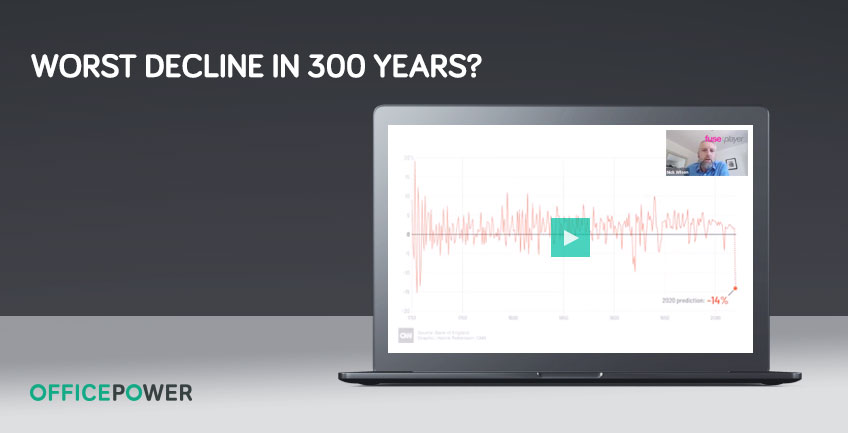 The worst decline in 300 years?
Last Friday we hosted another webinar, this time looking at the economic impact of COVID-19 on our economy, and what this means for dealer businesses.
EO Group's CFO Nick Wilson provided his analysis of the economic forecast and discussed future plans for EO Group/Office Power and how we are approaching this economic decline.
If you missed the webinar, you can log in to the online Office Power Dealer Community to watch the recording, comment and ask questions. Below are some of the key highlights. If you aren't a member of the community, please contact chris.armstrong@officepower.net to request access.
Why the COVID crisis is so different to any we've seen before
Unlike the most recent serious decline in 2008 which was concentrated on the financial sector, we're now seeing all the industries which contain dealer customers being significantly affected by this downturn.
We've already witnessed a steep drop in GDP statistics for April, but the worst is yet to come with a predicted 20-30% reduction in GDP for Q2 of 2020.
This is the biggest decline in over 300 years, and Nick talked more about the direct business impact of this for office supplies dealers.
The dangers of resting on government support
There are now 9 million workers on furlough, equating to a third of the UK's workforce, and unemployment in the UK is running at 8%. Nick called these figures 'frightening' and spoke more about the real prospect of how furloughed positions are 'at risk' of either changing of dissolving.
These are the people consuming our products, and we need to be ready to adapt to these changes.
On top of this it was found that 43% of businesses don't have cash reserves to last beyond 6 months. To date, £13 million has been borrowed on various government schemes, and we need to remember that this will need to be paid back.
Our economy has been one of the most damaged coming out of the pandemic, and unfortunately the best-case scenario looks like that of the 1930s depression. The worst case will be closer to something we won't have seen for over 300 years.
Watch the webinar online to find out more about Nick's take on the financial recovery, how quickly we can expect to bounce back from this and how businesses can use this data to plan for the coming months.
To watch the whole webinar and access the insights discussed further, get in touch with chris.armstrong@officepower.net or call 07866 922 234 for your login to the online Office Power Dealer Community.