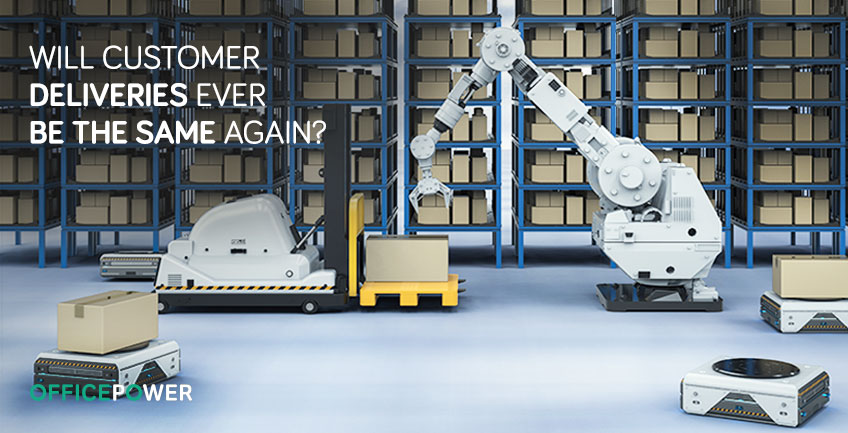 Will customer deliveries ever be the same again?
No industry has been left unscathed by the COVID pandemic, least of all the office supplies industry. Major changes in our sector have prompted questions about how our entire supply chain will have to change to efficiently operate in the future. At times like these, it's useful to look to other industries and businesses to get some insight on how they're adapting and what trends we might be seeing in deliveries and distribution in the future.
Recently, we attended Terrapinn's Home Delivery World 2020 online conference where major US companies such as BOXED, DHL, Canada Post, CBA and Pet Supplies Plus talked about changes they've implemented in their warehouses and supply chains, and what they expect for the future.
While some industries have seen a drop off in commercial demand, household-focused industries have seen a shift upward. The USA's Consumer-Packaged Goods Industry (CPG) has seen an upturn of 70% during the last three months.  Similarly, we've seen a significant shift from commercial deliveries to home deliveries in our sector. With the majority of businesses adapting flexible working practices, we believe home delivery will be more important than ever before. Dealers will need to ensure they not only work with the right couriers in terms of service speed and quality, but also that the additional costs of home delivery can be covered and are sustainable.
With thousands of workers operating in warehouses, dark rooms and fulfilments centres, businesses have put employee safety during the pandemic at the forefront of their priorities to meet an uplift in demand, adopting social distancing measures to keep workers coming in and their supply chains moving. But regardless of the short-term changes implemented, COVID has shone light on a more pressing question: how does the technological infrastructure of warehouses, fulfilment centres and deliveries need to change long-term to keep up with fluctuating demand, new working practices and a moving market?
This is an interesting point for dealers to think about. If you're doing your own deliveries, will you be able to put all the safe practices in place to ensure your workers are protected if the next wave of the pandemic strikes? Are you able to implement any fulfilment automation? If not, then what are your other fulfilment options? What about the suppliers you work with, what are their plans?
These are some of the questions that will help dealers plan for their business continuity and implement the changes before it's too late.
"Things that were seen as too risky or expensive to invest in before are looking more likely now"
During the conference, over 55% of attendees said their company has recently invested in automated technologies for the warehouse. 62% said they expect to see an upturn in the use of futuristic technologies in the supply chain.
As Joe Bobko, Vice President of Transportation at BOXED, highlights; "innovative companies are always looking for ways to improve operations, and the COVID crisis has only accelerated conversations surrounding automation in the supply chain and warehouses." Companies not only need to gather information about demand and how they'll meet it, but also improve integration of cooperation particularly between manufacturers and retailers. Automation in warehouses will be driven by safety.
Madrecki, former Director of Urban Innovation and Mobility at UPS, explains how businesses can no longer base any of their order fulfilment on old models, "these have been thrown out of the window." A prime example of this are meat processing factories where many tasks are still carried out by hand, COVID outbreaks have been high, and this has led to a shortage of meat in the US market.
Similarly in our industry, we've seen a significant shift that dealers who have their own drivers and warehouses have made during the crisis towards a drop-ship model. At Office Power our dealer partners usually use different types of deliveries, however during the pandemic 100% of our dealers switched to drop-ship. Our technology enables dealers to instantly change their delivery model to whatever suits them, so this gave them the ability to place their staff on furlough very quickly and gives the ability to switch back when they are ready.
However, all dealers across the UK will need to consider their staff safety and operational costs, to ensure they can return to business in a safe and sustainable way. Automation and technology in general will play an even more important part in dealer businesses going forward than ever before.
"We can't rely on the seasonality of the past; robots can help warehouses flex up or down to meet changing and unpredictable demands"
With uncertainties looming in the form of demand and capacity, a need to flex workforce up and down and a permanent focus on social distancing, many manufacturers are turning towards robots.
Karen Leavitt, CMO of Locus Robotics, shared why many companies are already introducing robots in warehouses; "Now is the time to put in place technologies which allow you to be as flexible as possible." Robots can seamlessly interact with colleagues in warehouses, assisting with social distancing measures while increasing productivity. Now is not the time for manufacturers and distributors to kick back and wait for it all to be over. Drones, robots and voice automation will likely play a big part in the creation of the safe and efficient warehouse.
Efficient and cost-effective home delivery was also highlighted during the conference. Our industry isn't the only one that has seen a significant influx of ecommerce delivery which COVID has caused.
As Madrecki emphasised, companies need to be thinking about how quickly they can get products to customers, and how they can improve the efficiency of last mile deliveries through optimisation.
"The crisis has raised the profile of the supply chain"
COVID has made the importance of the supply chain and the processes involved with it more transparent. It has also highlighted the importance of supply chain strength, and what's needed to keep it going in unprecedented situations such as these.
Unsurprisingly, companies across the globe are rethinking the ways they currently operate and are placing more focus on technology, automation and ecommerce as well as efficiency and business continuity.
If you want to find out more about what our plans are at Office Power and how we support our dealer partners to help build efficient, effective and most importantly sustainable businesses in these unprecedented times, please call Chris Armstrong on 07789 004 158.
Don't forget to join the Office Power Dealer Community online to get access to exclusive events, webinars and insights that will help you plan for the future too, email chris.armstrong@officepower.net.