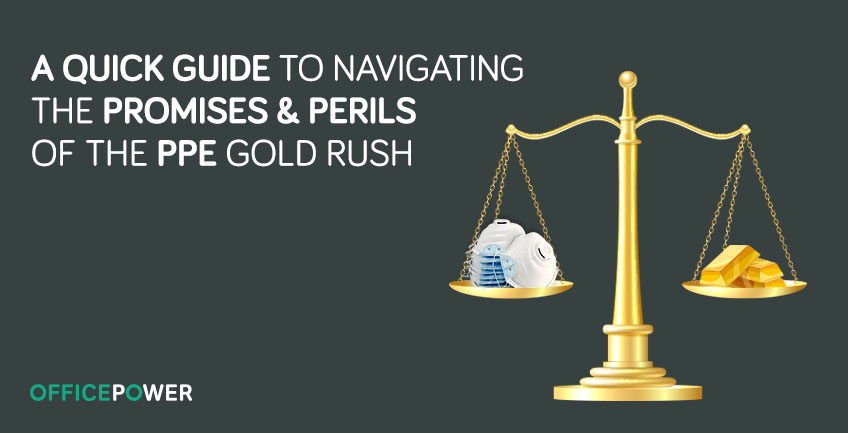 A quick guide to navigating the PPE gold rush
Since the Covid-19 pandemic began, demand for PPE has sky-rocketed and sourcing the right products has become the new gold rush in our industry. Face masks and hand sanitisers have suddenly become the new most sought-after commodity.
Our dealer partners, as well as our own team, have been speaking to numerous new suppliers to source their PPE and establish relationships with reputable suppliers in this sector.
Compliance, safety, legitimacy, and quality have been at the forefront of everyone's mind and between us all, we came across many 'stones' until we could identify the 'golden nuggets'.
As a result of our collective search, we have identified some useful tips and take-aways to help ensure that you source the right products from reputable suppliers. In this blog post we just wanted to share some of our insights with you, we hope you find it useful.
WHAT SHOULD YOU LOOK FOR WHEN SOURCING MASKS?
FFP3 Masks – FFP3 face masks are the most effective at filtration. These masks are shaped to your face for a snug fit and typically have a valve to help you breathe as the filtration material is much thicker. The valve also reduces the build-up of moisture, lengthening the lifespan of the mask.
KN95, N95 and FFP2 Masks – These masks all meet the guidelines from The World Health Organisation (WHO) for protection against Covid-19. These masks are not shaped to your face but are simply held in place by the elastic ear loop. They have a typical lifespan of 3-8 hours depending on environmental factors.
Type I and Type I R Face Masks – These are 3 ply surgical masks with a BFE (bacterial filtration efficiency) of 95%. Surgical masks of this type stop the wearer from infecting the surrounding environment. They are not effective at protecting the wearer from airborne diseases.
WHAT IS THE DIFFERENCE BETWEEN THESE?
KN95, N95 & FFP2 masks are the same. In America, the codes N95 & KN95 are equal to the China code and FFP2 is the EU Code. They undergo different standards and regulations, depending on the geographical area in which they're manufactured.
Most importantly FFP2, FFP3 & N95 masks are the ones which are effective in protecting the wearer from viral transmission.
FALSE ACCREDITATION AND THE DANGERS OF SOURCING UNSAFE GOODS
Our Trading Manager Andrew Torres talks about his recent experiences, 'I've been focusing on sourcing PPE since this pandemic began and I've noticed a lot of products popping up with varying degrees of certification. This is worrying, as it becomes less and less clear which masks are safe.'
Before Covid-19 happened, China manufactured over half the world's masks, but this has now increased 12-fold. Many of the companies producing and procuring these masks have very little knowledge of medical standards and were rushed in creating and buying them. So unfortunately, this has inundated the market with substandard product and fraudulent accreditation.
You've probably had numerous emails in your inbox offering PPE products at competitive prices, but if these are uncertified the risks of buying and selling them are exponential. It not only endangers numerous lives in our public sector, it puts your business, customers and reputation on the line. Please be vigilant.
PROTECTing YOURSELF FROM BEING CAUGHT OUT
be PREPAREd FOR PRICE CAPS, RESTRICTIONS AND REQUISITIONS
One of the difficulties of the PPE gold rush is that dealers need to be cash-ready in order to buy product. This can be difficult even in normal times and having to pay upfront to secure product poses its own set of risks.
Even if you are able to source accredited and safe PPE, you need to quickly turn it back into cash before the demand changes, supply opens up or potential price caps are bought in. If you don't, you may be left with underwater product which you can't sell at a positive margin.
Just last week, the UK's consumer watchdog asked the government to introduce emergency laws to curb prices for various PPE products, so just be aware of that to protect yourself from loss-making business.
YOUR CUSTOMERS HAVE AN OBLIGATION TOO
Your customers need to know they're obliged to buy proper product for their staff and customers. Making your customers aware of this will help protect our key and front-line workers from being issued with substandard product.
It'll also give you the opportunity to promote your service as trusted, reliable and personal.
A LAST WORD
Our CEO Simon Drakeford often credits dealers with the best knowledge and skills when it comes to sourcing product, that's why our platform allows dealers to work with any supplier they want.
While there's no way of ensuring a no risk strategy, knowing as much as possible about accreditation and talking to the right people in your network and our industry could make a huge difference.
At Office Power we always advocate knowledge sharing. If you need help or would just like to discuss your concerns and experiences in this area, please give us a call.