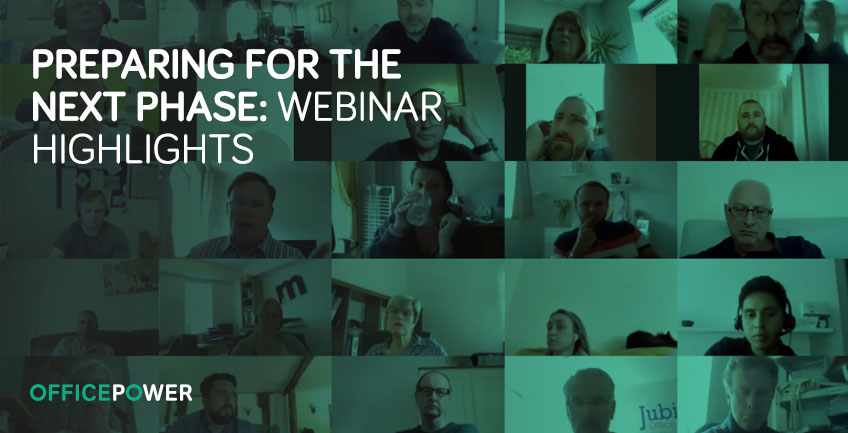 Preparing for the next phase: wholesaler changes, back to business & the perils of PPE
Following the success and positive feedback of our first webinar, last Thursday we hosted another one, which looked at how we can start to prepare for life post Covid-19.
The discussion was interactive and focused on 3 main areas: wholesaler and structural changes in our industry, bringing businesses – and business – back after lockdown and the promise and perils of sourcing and selling PPE.
In case you missed it, here are the highlights.
SIGNIFICANT CHANGES IN INDUSTRY STRUCTURE NOW THAT SPICERS HAS GONE into administration
Great regret and sadness were expressed about the fact that earlier that day Spicers had announced that they were going into administration.
Simon highlighted that we're left with a diminished wholesaler channel and there were multiple questions about what this now means for dealers.
A shrinking of wholesaler players will have a seminal impact, but he believes that credit will be a new key battleground, and business growth will rely on this.
He reiterated that either having liquid cash readily available – or failing that a very strong balance sheet – is critical for survival.
Dealers need to be considering whether they have cash or credit to buy stock and how long before they can turn such investments back into cash. New or more complicated working capital models are emerging.
The concept of a 'wholesaler VIP club' was discussed, and the criteria for being in 'the club' probably isn't a matter of luck.
There is a possibility that wholesalers will have to look at their own unit economics and this could lead to cost price inflation, adjusted SLAs and other changes to the traditional wholesaler model – that will impact dealers.
It's a bad time for dealers to sit back, wait and see what happens next.
BRINGING BUSINESSES BACK AND OUR BUSINESS BACK UP
While the concept of variable furloughing looks good on paper, Simon warned against 'legislation by press release' and suggested we'll need to await the finer details before we can determine what it means for business in our sector and the wider impacts on demand that our industry supports.
He warned against being complacent or relaxed because of this new variable furlough scheme, 'as a headline it's great, but I don't think it's the silver bullet solution to our problems'.
The scheme is likely to have complexities and we'll need to be efficient, compliant and agile in how we operate.
It's likely that demand will be patchy as companies return to work too. With less need for basic and traditional supplies, and more demand for specific, accredited PPE, tech, safety & hygiene products.
However, there were mixed opinions on this.
One Spicers Alliance dealer said he expects that 'core products will now only make up 30% of the mix' while another suggested we should view this peak as a 'trend'. Like other trends it will likely pass, and we shouldn't forget our core offering.
However demand unfolds in weeks to come, Simon talked about how businesses should focus on tweaking their sales & marketing strategies to focus on 'STP' – Segmentation, Targeting and Positioning.
Gone are the days where dealers can hand customers a catalogue and ask them what they want, now we need to be adept in segmenting who our buyers are, what they need and how we'll position our offering to match this.
Instead of asking ourselves 'who is the buyer in this business?' we need to ask, 'how am I going to segment buyers in the right way, target the profitable ones, and then position these products differently.'
Simon spoke about how we can also expect a resurgence in multichannel as a valuable tool for effective and efficient sales methodology, with greater focus on efficiency and distant or remote channels.
If dealers can use digital channels to efficiently sell commodity products, they can focus fully on person-to-person sales for specialist PPE & safety supplies.
We've always advocated the importance of structuring your business to be able to focus fully on sales, and now it's more important than ever that you are able to do this.
There was also some talk of the death of desktop delivery, the rise of the 'blue glove' delivery service and fewer personal meetings with customers.
However Office Power dealer partner Tim Crabtree made a valid point, 'people still buy from people, it's still going to be important to talk to our customers even if we can't see them face to face'.
We're an industry which has embraced seminal changes over the past 50 years, and there's no reason why this pandemic should stop us from offering personalised and attentive service.
But it's down to dealers to embrace the technology to enable the structural changes in all markets.
THE PROMISES & PERILS OF THE PPE GOLD RUSH
The exceptional demand for PPE and protective products is being viewed by most as a short-term gold rush.
Masks and sanitiser are likely to be the new paper and ink.
But Simon warned caution when sourcing these, 'it's a real fear of mine, that people will start buying product, and they'll be left with it because it has false accreditation or demand has stopped as supply has opened up; or the inflated cost prices will lead to a negative margin'.
There's risk of losing out on profit if – or more like when – price caps are brought in to stop businesses profiteering, and even the danger of requisitions if supply is scarce or prices are deemed inflated.
Perhaps the most serious reason to stress caution is that navigating this gold rush poses a real risk to your reputation if you make a mistake.
Directors can be personally liable for the products they sell, and by purchasing PPE which don't meet safety standards, they could be putting their business and brand at risk. Worryingly, there's more of these fake products out there than you might think.
Diego Vicamini, Managing Director of Euroffice Italia, is a few weeks ahead of us in Italy. He said we've been seeing every possible player jumping into the market, not just competition from old competitors, but from everyone who has any loose supply links to China.
'These products (masks) are arriving without the certification, and this is getting a lot of attention from the trading standards and other such government bodies.'
It's reputed that before the pandemic there were approximately 3,000 companies in China manufacturing face masks, and now there are over 38,000. This makes regulating them all the more difficult.
Ultimately, we feel this is a gold rush that will normalise. But there are still a lot of questions. What about when we see a vaccination? Will the demand vanish? Are we digging for fool's gold?
Perhaps the most pressing of these questions was how do we get access to it? It's not easy money without risk, and by following the demand we can't be sure that we'll come out on top.
Nobody can deny the frustration felt throughout the dealer community. For years, we've been in the 'Gobi Desert of demand' with over supply, and now that there's nationwide demand but real difficulty in being able to meet it.
Simon likened the situation to the Klondike Gold Rush of the late 1800s. Just like the 100,000 prospectors who sped over to Canada in search of prosperity then, dealers could spend weeks sifting and find a few valuable nuggets, or just get frostbite trying.
Ultimately, we think that dealers should absolutely go ahead and source PPE, but they need to be very careful and vigilant about who they work with and where they're sourcing from.
OUR CONCLUSION
There's no risk-free way to go about accessing products, there are still uncertainties surrounding how companies will get back to work and there are unanswered questions about just how this new wholesaler structure will operate.
We believe that ultimately the dealers who stay vigilant, work together, keep informed and utilise the skills and tools they have the best chance of successfully seeing this next phase through.
But it's becoming clearer each day that there's far less margin for error than before, and dealers who don't have the infrastructure or resources to support this will need to make the steps to change this before it's too late.
Remember that you can watch the webinar in full on the online Office Power Dealer Community Portal.
Q&A WITH VOW MD ADRIAN BUTLER
We'll be hosting a Q&A with Vow's MD Adrian Butler later this week, which will be available to watch on the online Office Power Dealer Community portal.
If you'd like access to this, or to talk about your specific challenges then get in touch on 07789 004 158 or email chris.armstrong@officepower.net.