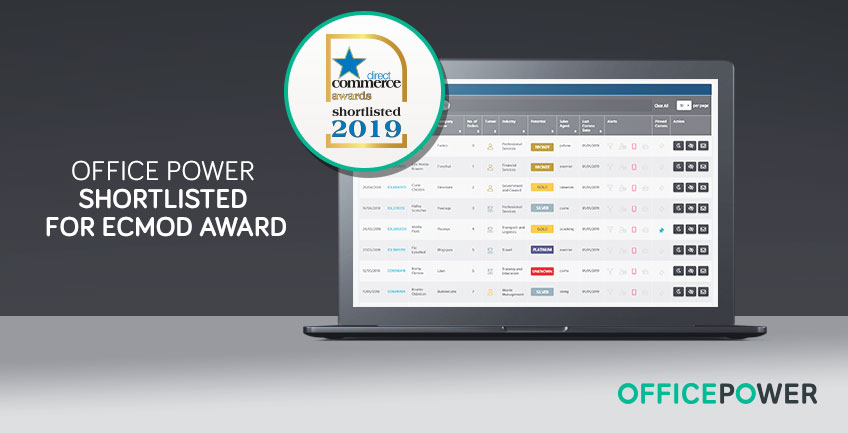 Office Power shortlisted for ECMOD Direct Commerce Award
We're pleased to announce that we've been shortlisted for a prestigious ECMOD Direct Commerce Award. Receiving the award for Best Exploitation of Technology 2019 would make us winners of this category for the fourth year running. Wish us luck!
Shortlisted for the Best Exploitation of Technology
Our latest CRM Prospect tools have been nominated for the award, as they are designed to help our dealer partners prioritise and prospect better within their existing customer base, acquire new customers more effectively and grow their business. The tools are set to help dealers overcome the challenges surrounding the acquisition and retention of customers in the B2B office supplies space.
Our CRM prospecting tools
"The development of the latest tools to help sell to existing customers smarter and more effectively, as well as maximise the opportunities from new customers has already had a significant impact on us and our dealer partners," said Office Power CTO Mark Gibbard. "Office Power's new CRM tool is the futuristic merging of data science and technology. Using data science, we have been able to predict to very high accuracy whether a customer will be 'high-value' at the time of their first order, we then automated this prediction to enable our Dealer Partners to act quickly on this valuable customer signal.  Our new CRM platform also uses other bespoke clustering and behavioural algorithms to alert our Dealer Partners to other customer signals and provides advanced filters so they can efficiently manage and grow large customer bases."
What our dealer partner Nice Guys Office Supplies has to say about them
"The new features are fantastic and will allow me and my team to sell more effectively, target customers in the right way, manage the workload for the sales team more efficiently and ensure that we are focusing on the right customers. The visibility that Office Power provides on our customer data is far superior to any systems I have used before."
About the ECMOD Direct Commerce Awards
The ECMOD Direct Commerce Awards have spearheaded the recognition of business excellence for organisations engaged in direct to-customer retailing across traditional and newly emerging channels. Now in its 21st year, these unique awards seek to celebrate the achievements of businesses of all scales and at all stages of development. The prestigious black-tie event will take place on 13th June at Twickenham Stadium.
It's not just about awards
It's great to be recognised, but we know that there's more to success in business than awards. We believe knowledge is power and the key to success in the office supplies industry is knowing the ins and outs of every aspect of your business, however big or small, and managing it accordingly. We've learned through experience, and now – having racked up over 20 years' in the industry, a handful of awards and a fair few specialist contacts – we have utilised our experience and knowledge to create the tools specifically geared towards dealer businesses within the industry. We aim to give dealers greater visibility and control of their businesses, along with the ability to use these insights to enable growth. To find out more about how Office Power can help you and your business, call 07789 004 158 or email chris.armstrong@officepower.net.