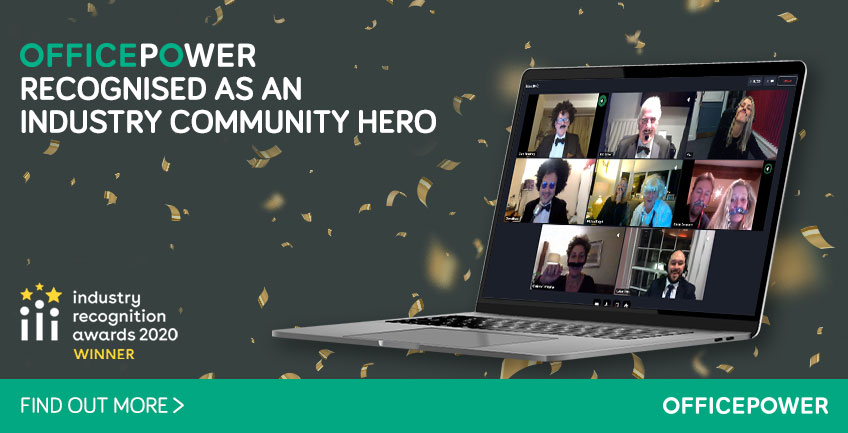 Office Power recognised as an Industry Community Hero at BOSS Awards 2020
We are delighted to have been awarded a BOSS Industry Community Heroes Award 2020 for opening up our online social learning community platform, the Power House, to support all dealers throughout the pandemic.
What is the Power House online platform?
The Power House platform was originally designed for us to share training and learning plans with our existing dealer partners, to enable them to make the most of the award-winning technology and services. However during the Covid crisis, we recognised the need for all dealers to come together and share their thoughts and feelings, access valuable resources as well as collaborate with and learn from each other. By opening up the Power House to all dealers in the industry, the entire dealer community benefits from access to numerous resources like articles, videos, webinars and user-generated content. They also have a space to share, collaborate and support each other. The Power House has been a vital instrument in facilitating this community feel.
What our CEO Simon Drakeford has to say about it
"This has been one of the hardest periods our industry has had to endure in our lifetime, and we've all needed extra support and community spirit at this time. By opening up the Power House online community to all dealers, we believe we've created that valuable space and facilitated a collaborative environment, not only to help dealers feel supported, but to ensure they have access to the resources and information to make the best decisions for the longevity of their businesses at this time."
Join the conversation
If you'd to be part of the online Power House dealer community and get free access to valuable resources, articles, webinars and support, get in touch with Chris Armstrong today on 07789 004 158 or email chris.armstrong@officepower.net.