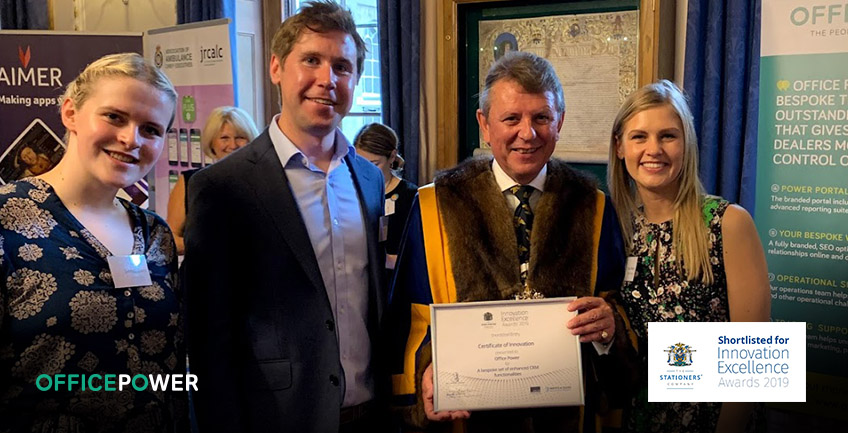 Office Power Presented with Stationers' Certificate of Innovation
We've been presented with the Stationers' Certificate of Innovation for the technological enhancements we've made to our Customer Relationship Management Platform over the past year.
Office Power Innovative technology supports dealers
Our CRM platform has been recognised for its innovative features in the past, but the most recent functionalities have revolutionised the way in which dealers can target high-value customers. The CRM Filter and Alert Functionalities enable office supplies dealers to prioritise and prospect more effectively within their customer base, improve margins and grow their businesses. Our company CTO Mark Gibbard explains "Office Power's new CRM tool is the innovative integration of data science and intuitive technology. We have been able to predict to impressive accuracy whether a customer will be 'high-value' at the time of their first order, and then automate this prediction to enable our Dealer Partners to act quickly on this valuable customer insight.  Our new CRM functionalities also employ bespoke clustering and behavioural algorithms to alert Dealer Partners to other customer signals and provide advanced filters, enabling them to more efficiently manage and grow large customer bases."
team and technology recognised
Our CEO Simon Drakeford said: "We are delighted to have been presented with this certificate, which recognises the innovative technical developments we have made over the past year. The technology and platform that we offer our dealer partners evolves constantly, and innovative thinking is key to ensuring its success. It is highly important that we provide our dealer partners with the cutting-edge tools to achieve growth in the market. Being presented with this prestigious certificate confirms that we are producing the best quality technology possible to help our dealer partners thrive. It also commends the hard work put in by all team members who have played a part in developing it."
To find out more about how Office Power's award-winning technology can help you, call 07789 004 158 or email chris.armstrong@officepower.net.