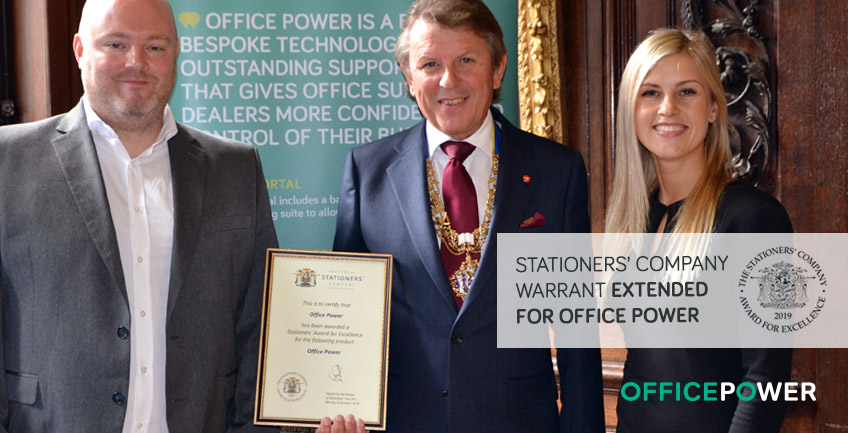 Office Power awarded Stationers' Company Warrant for third consecutive year
Office Power has been presented with a Stationers' Company Warrant for its technology and support services for the third consecutive year. The company was initially awarded the prestigious warrant in 2016 after the judges were impressed with the way they support Office Supplies dealers 'to concentrate on growing both their brand and more importantly profitable sales'.
At the Company's Warrant Awards this month, the judges decided to extend the warrant in recognition of further innovation and development of the Office Power service. The Stationers' Company Warrant was introduced by Past Master Helen Esmonde in 2014 to recognise and promote excellent products and services.
Sammy Bartley, newly appointed Chairman of the Warrants Committee commented on this year's award to Office Power: "The Warrant Committee were delighted to extend the warrant to Office Power for their dealer technology and support services as the judging panel identified that the ongoing  developments are highly relevant and beneficial for resellers."
Simon Drakeford, CEO, Office Power said: "We're delighted to have had our Warrant extended for the third consecutive year. Office Power is continuously evolving and it is important for us that our offering remains current and of the highest standard. This stamp of approval recognises the quality of our product and the hard work that the Office Power team have put into continuously developing it."