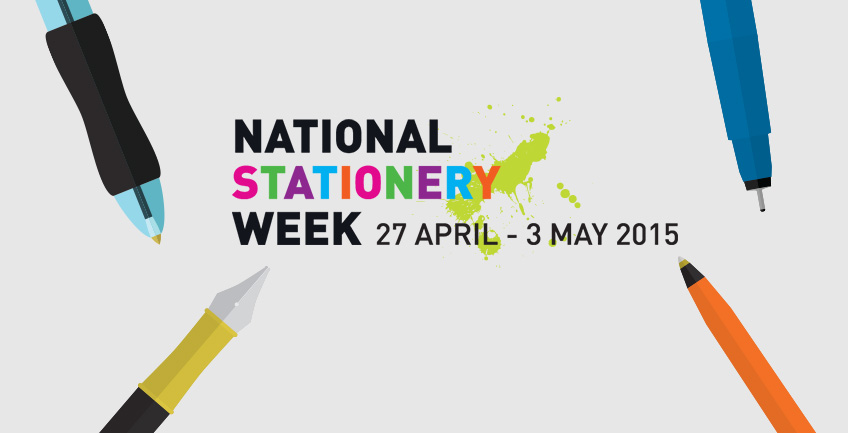 National Stationery Week 2015
Are You Ready?
National Stationery Week  is all about "Get Britain Writing", and is running from 27th April to 3rd May, including World Stationery Day on Wednesday 29th. This is a big opportunity for retailers, supported by a high profile PR and social media campaign.
This year's National Stationery Week's "Get Britain Writing" campaign will create millions of pounds worth of media coverage, and be trending on Twitter andFacebook to massive audiences, aimed at reaching tens of millions of consumers with the message that, even in a digital world, the power of writing by hand cannot be underestimated.
National Stationery Week  receives global trade sponsorship and brings together stationery lovers from throughout the UK and around the world, with the objective of getting people talking about stationery and the importance of writing by hand.
Last year's event generated 140 articles and coverage in consumer magazines and the national and regional press, including mentions from Chris Evans, Ken Bruce and Steve Wright on Radio 2, as well as over 20 leading blogs focusing on writing by hand and Getting Britain Writing.
Retailers up and down the country can take advantage of this annual campaign, engaging clients with their own marketing activity – with the promise of getting their tills ringing as millions of customers focus on all things stationery, taking full advantage of the nation's love of the subject, and the increase in sales the event could bring.
Some Ideas to Get Things Moving
Post about it on Facebook and Tweet about it on Twitter and use any of the following hashtags #NatStatWeek; #GetBritainWriting;  #GetKidsWriting; #writingmatters; #lovestationery; #stationeryaddict.
Run competitions and promotions in-store, online and on social media.
Have special 'focus' days to promote a particular product.
Include the National Stationery Week logo in advertising and promotion
Download images and artwork for store and POS use, these are freely available on the NSW website.
If you are on Pinterest, set up a board specifically for National Stationery Week.
Making stationery fun gets people engaged, especially children and it's important to get children inspired to write and be creative. We should really embrace this campaign not only in store but online and across the social media. The message is the same wherever you are in the world – writing matters, and is forever.
MAKE THE MOST OF NATIONAL STATIONERY WEEK