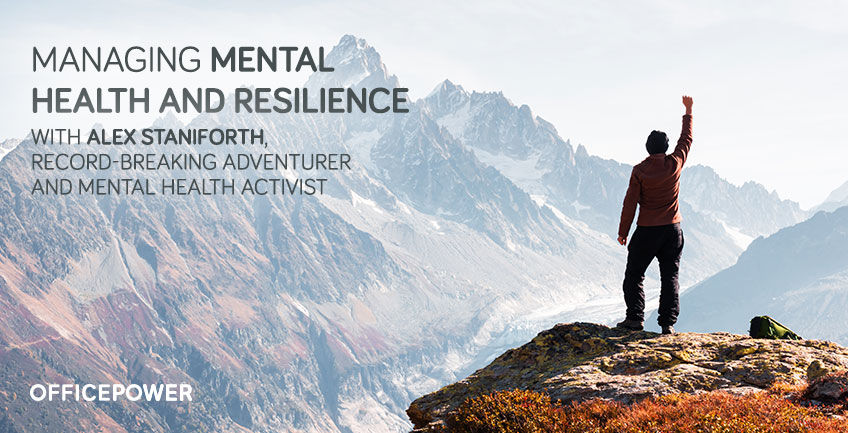 Managing Mental Health and Resilience with Alex Staniforth
BOSS Federation recently held a webinar which focused on managing mental health and resilience in these unprecedented and difficult times. Alex Staniforth, record-breaking adventurer and mental health advocate, spoke about his own experiences with ill mental health, challenging the stigma and outlining the steps we can all take to manage mental health during these times. In this post we have summarised some of the key points Alex raised, we hope you find it useful.
Why we need to unburden our resilience rucksacks
With the aftereffects of lockdown and the challenges like job cuts, financial difficulty and other changes, the UK is in the path of a tsunami of ill mental health. Not only has lockdown exacerbated existing conditions, but it has triggered new ones in individuals who've never dealt with them before.
Alex spoke about how we can view our mental wellbeing as a rucksack. Over time, day-to-day stressors will cause a build-up of stress inside. In normal times we can find ways of releasing the build-up of stress these cause, for example going to the pub with friends, seeing family members or seeing a film at the cinema. If we don't have these methods of release, then our rucksacks will likely overflow, and this could lead to emotional snapping. This could be anything from a few tears to a full breakdown.
Because the lockdown restrictions took away a number of the ways many of us relieve daily stress, we're now at risk of overflow. Although some restrictions have eased, we're still far from the normality we knew before, and we need to find new ways of relieving the stress in our mental rucksacks.
This can include taking up exercise like walking, running or swimming, taking time to relax and unwind, trying out meditation, learning a new skill and meeting friends in a Covid-secure way which complies with government guidelines.
Resilience sometimes means taking an alternative route
When we think of resilience, we tend to first think of 'toughness' or 'pushing through'. Although it's important to have an attitude of strength when dealing with ill mental health, Alex spoke about how resilience isn't always about how much we can take, but instead taking a different path.
When you're struggling, it's not a sign of weakness to take time to seek help, and it's important to take time out to recover. Alex drew on his own experiences to give an example of this. He recounted how he was forced to take rest when he had an injury on one of his expeditions, but taking that break meant that he was still able to complete it.
Resilience means strength, and often strength works from the inside out. It's important to cultivate the resilience inside ourselves to handle the everyday challenges life inevitably throws at us, as opposed to just toughening up the outside and increasing the load. Alex put it perfectly, "if we don't have time to empty that rucksack, then we'd better make time to be ill."
We need to start challenging the stigma
Alex also spoke about the importance of challenging the dangerous stigma that mental ill health somehow equates to weakness. He spoke about how this myth is literally costing lives, and that those who are speaking out about their own struggles help more people than they may know.
These are difficult times for everyone, and the simple act of reaching out to teammates, colleagues and friends can be a lifeline for someone who might be silently suffering. Asking twice if someone is ok is often a good way of encouraging someone to open up and get support. Sending helpful resources if someone doesn't feel ready to open up can be a good way of providing support too.
Some of the ways to manage your mental health better
Mental health can be complex, and there's often no singular way of managing it. So, building up a toolkit of resources and practices can be essential for maintaining and managing your mental wellbeing for the long term. Just some of these can include:
Keeping a routine: drawing on disasters he encountered climbing Everest, Alex spoke about the importance of keeping a routine. Sticking to a routine can be a great way of managing anxiety and establishing some structure when times are tough
Regular exercise: exercise isn't necessarily a cure, but it can be hugely beneficial for improving mood, from increasing feel-good endorphins and getting out and about
Seeking help: there's no shame in seeking medical and professional help for mental health issues, and the sooner you seek help, often the quicker you can start feeling good again
Meditation and mindfulness exercises: meditation and mindfulness can help you to learn techniques to manage stress and anxiety, and can be a good way of taking some time for yourself
Rest and recovery: it can be challenging to switch off if you're stressed or busy, but rest is an essential factor in keeping your mind and body healthy
Checking your inner voice: how do you speak to yourself on a daily basis? Are you kind and compassionate or self-critical and harsh? Being aware of how you speak to yourself and aiming to be kind can help you be more mindful and avoid being too hard on yourself
Avoiding comparisons: everyone is different, and usually, it helps nothing to compare ourselves to others. Alex gave a great example of this, saying that it makes no sense for a first-time climber of Everest to compare themselves to a Shurka (a local mountain guide) and it's the same for us, as everyone is on their own journey
We hope that you're coping well with the lockdown and managing all the changes and disruption it brings. We're always open for a chat, whether that's about the changes your business is facing, Office Power, or otherwise. Get in touch today on 07789 004 158 or email chris.armstrong@officepower.net.