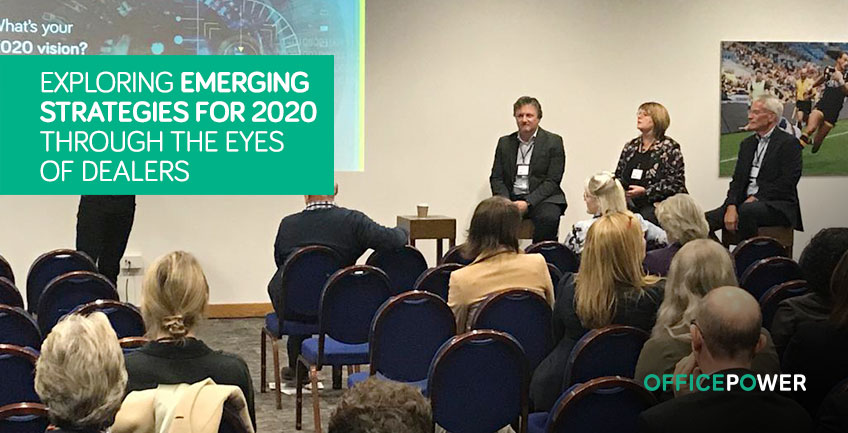 Emerging dealer strategies for 2020 and how they plan to keep thriving in the year ahead
At this year's Dealer Support Live, we held a panel discussion with three of our dealer partners to discuss their emerging strategies for 2020 and how they plan to keep thriving in the year ahead. Hosted by our CEO – and BOSS Chairman – Simon Drakeford, the panel and audience discussed our survey findings highlighting dealer opinions on the direction of the industry, as well as challenges dealers have faced in previous months and potential growth strategies for the future. We've narrowed down what we feel were the five key take-aways from the session.
The playing field may be more uneven, but dealers can thrive where online giants fall short
There's no doubt dealers across the UK have been impacted by the changing strategies of larger resellers throughout 2019. Dealers are facing increased competition from online giants and are having to defend their share of the market in the SME space harder than ever. However, though the size and brand strength of these larger players may appear beneficial, this notoriety can function as a double-edged sword. Just as customers are aware of what they can do, they're also becoming increasingly aware of what they can't. These larger players may be able to offer lower prices for example, but often customer support and aftercare is non-existent. This leaves an opening for local dealers to capitalise on these overlooked aspects, building close relationships with and taking the time to support customers, ultimately strengthening their businesses. Time taken up by this isn't a problem for dealers who partner with Office Power, as the Customer Support team can answer their customer calls and resolve issues using the integrated Query Management System day-in day-out, leaving dealers free to go out and build the relationships which make a difference.
Sales team management isn't the only way to secure high margin and boost average order size
The relationship between sales person, gross margin and average order size isn't necessarily as relevant as it used to be. Throughout the discussion, it became clear that more and more dealers are starting to appreciate the role online ordering plays when it comes to improving GM and increasing the number and type of products customers place in their baskets. Using an online platform created specifically for the office supplies market gives Office Power dealer partners a competitive edge, and the dynamic pricing tools exclusively designed for our dealer websites equip dealer partners with an advanced and effortless solution for staying on top of margins. No more last price paid or manual uploading of prices, with the dynamic pricing software customer prices adjust in line with COGs automatically. Increasing GM and AOS are two key priorities for almost every dealer out there and tools such as these can be instrumental in actualising this.
Be everything to somebody, rather than something to everybody
Personal and proactive selling, good customer service and effective relationship-building are areas in which local dealerships will always excel in. During the discussion, Evergreen's Julie Alston reminded us of the importance of sticking to this philosophy. Having recently clocked up 33 years in the office supplies industry, she explained how although it's important to delve for new strategies when it comes to acquisition, retention and growth, it's just as important to stick to what you know works. In this case, that's continuing to sell proactively and effectively to customers while providing the best possible service. Office Power dealer partners have the luxury of managing all their accounts from one award-winning CRM system all at the click of a button. They have full visibility of all their customer actions, from a decline in sales of a certain category to a change in the size of their business and can act swiftly on this information to increase retention, customer happiness and sales. It's also effective in helping dealers prioritise who to target. There will always be 20% of the market which will buy solely on price, so having granular focus on where you can harvest the most from valuable accounts without wasting time and resource is key and harnessing the technology to do this is invaluable.
There's more to retention than just relationships
Jeremy Quick from Jubilee Office Supplies made a good point explaining how in his experience, the better the relationship with a customer, the less easily they're swayed when competitors come knocking. But what happens if customers are buying from the sales person and not the brand? One member of the audience suggested that creating relationships with multiple contacts in a customer business reduces the risk of attrition if a salesperson leaves. However, getting customers to order online is an even easier way of ensuring loyalty to your business. If – like Office Power dealer partners – you can offer a superior web platform with advanced account functionalities such as easy access to statements and invoices, favourites, platform, intuitive search functionality, free gifts and so on, you're giving your customer every reason to come back time and time again, and no reason to look elsewhere.
There's a lot to be gained from sourcing Specials
Being able to source and provide true Specials – what we call "pink washing machines" – has the potential to revolutionise the sales strategies of many dealerships, enabling an endless aisle solution and creating gaps for new business in your overall offering. We've significantly developed the Specials sourcing functionality for our dealer partners over the past year, allowing them to efficiently manage special orders with increased visibility, control, range and go-to-market options. This technology allows dealer partners far greater flexibility and control over how they source and sell special products; enabling them to offer an endless aisle solution to their customers while using our credit, and as a result retain an enviable USP over competitors. When it comes to diversifying into Specials, dealers who choose to partner with Office Power are a step ahead.
What's your plan for 2020?
Whatever your strategy for thriving in 2020 is, maximising retention, playing to strengths, harnessing technological solutions and focusing on high-value accounts are all growth strategies at the forefront of many dealers' minds. If you're interested in learning more about Office Power and how we can help support you in realising your business vision for 2020, get in touch with Chris Armstrong on chris.armstrong@officepower.net.