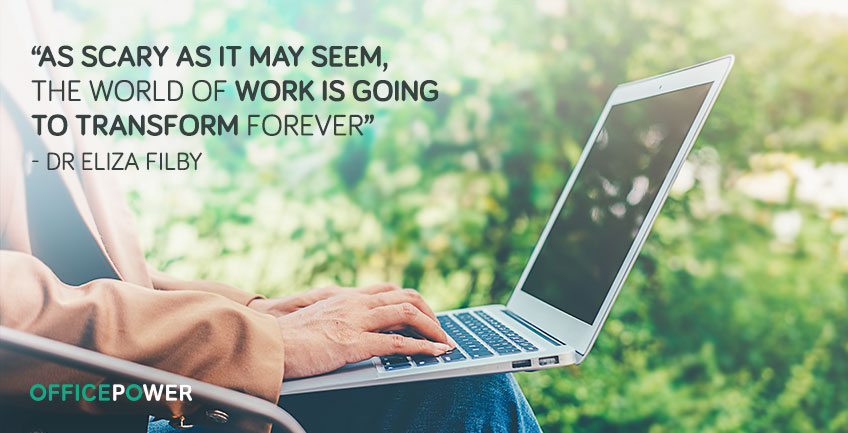 The impact of COVID-19 on the future of work by Dr Eliza Filby, Generation Expert & Historian of Contemporary Values
Recently, BOSS Federation held a webinar featuring Dr Eliza Filby, Generation Expert & Historian of Contemporary Values.
Drawing on insights gained from multiple industries and clients, Eliza spoke about COVID-19's impact on the structure of working lives and offices, potential opportunities for the office products industry and the importance of aligning with new customer priorities.
In this blog post we wanted to highlight some of the most interesting insights from this webinar.
"As scary as it may seem, this is going to transform the world of work forever"
The lockdown has urged companies to question a myriad of working practices, not least the need to travel abroad for meetings and necessity to have staff together in one place.
Eliza, who's worked with clients such as the MOD, Warner Brothers & VICE, described exiting lockdown as 'The Great Pivot'. Life in the office won't return as the norm and we'll see significant change in where and how we work.
As a result, huge adjustments will need take place in offices across the country both to keep workers safe and to adhere to this monumental shift in post COVID-19 working mentality and practices.
In the short-term, offices will be redesigned to incorporate social distancing and safety measures.
The opportunity for dealers is clear with the prospect of ongoing temperature testing – a measure already in place in many businesses – more staff rotas, a switch from hand dryers to hand towels, directional signage and even keyboard skins, to reduce risk of transmission in hot desking environments and offices.
"The office will become like a church where you go once a week to learn and be inspired"
Eliza made it clear that offices will still be needed, but she expects businesses to use the office more as a 'church' where collaboration takes place, ideas are formed and discussions are held. Then, the concentration of work will likely take place at home.
Because of this, the long-term layout of the office will look very different with features like wider corridors, fewer doors and voice activation to help control infection.
Collaborative workspace giant WeWork has already started to implement changes, committing to the reduction of 30,000 office seats across their UK locations to cater to social distancing.
"There's real opportunity in meeting the new needs of your clients"
The whole industry will now need to identify and adjust to the new priorities of customers to continue servicing them effectively.
Right now, the top priority is health and hygiene. It's not just about helping employers protect their employees; it's about helping staff feel valued, assured of their safety and confident returning to work.
But over time, attitudes towards health and hygiene may change, and new products such as bespoke branded PPE, temperature scanners, company signage which reflects values, and even reinvented air circulation in offices might overtake the standard products companies need right now.
There's a real necessity to pivot with the changing priorities of your customers to keep catering to their needs.
Eliza discussed several other areas that dealers should be thinking about including the reinvention of communal areas, the increase in robotic and AI technology in workspaces and how employers will be required by law to improve employee home offices.
"Don't beat Amazon at their own game, do it differently"
While collaboration and video technology apps like Teams, Skype and Zoom make it quicker and easier to maintain relationships with current clients, ultimately lack of face to face contact will mean it's harder to build relations with new ones.
So, Eliza stressed the importance of building and sustaining relationships with your existing customer base starting now.
To stay relevant to customers, dealers need to offer advisory service and bespoke solutions, connect with their customers, understand their values and build relationships.
The questions dealers need to be asking themselves daily are what do my customers need, what are they doing and what can I offer? By doing this, office supplies dealers have the best chance of surviving and thriving in the post COVID-19 environment.
Want to find out more?
If you're a BOSS member you can watch the full webinar here or you can register for BOSS Federation membership here.