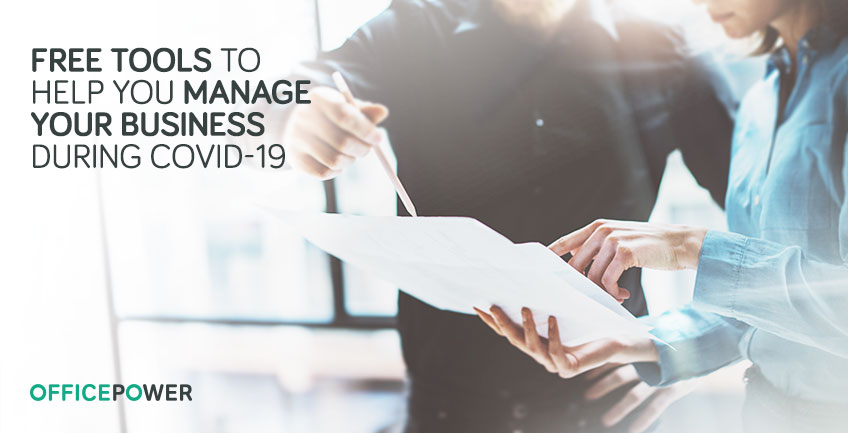 Free tools & services to help you manage your business during COVID-19
With so many office supplies businesses feeling the impact of Covid-19, we've scoured and searched for the best free tools and services we think are most useful for helping to support you through these difficult times.
For keeping in touch with your clients & team:
Microsoft Teams – free for 6 months
There are a number of apps available for staying connected remotely during Covid-19, but we think this one is the best for our industry. Microsoft teams is an online communication & collaboration platform which has taken remote working by storm.
It's used by hundreds of thousands of businesses worldwide, and allows you to chat, meet, call, and create workstreams for your business from anywhere. You can also share and edit documents with your team members, as well as store files all in one secure place.
We use Microsoft Teams too and think it's a great collaboration and communication tool.
For remotely training you & your team
Improve is an online training platform which provides content specifically for SME businesses. The straightforward and easy-access courses cover key workplace topics such as legislation, people & relationships, online & offline safety, digital & creative skills, management, leadership & more. They're currently offering a 14-day free trial to try out their platform.
Cornerstone – free Covid-19 training
Another online learning platform, Cornerstone, has launched a free programme offering essential training on Covid-19 for businesses & employees. We think that this is a great tool for staying up-to-date with the official guidance on such an unprecedented situation.
For managing your social media, design & marketing
Hootsuite is one of the most popular social media creation and scheduling platforms. They offer a free plan which allows you 1 user, 3 social media platforms and 30 scheduled messages. It's a great, easy-to-use tool for keeping on top of your social media and communicating to both home and consumer audiences. You can also create and schedule posts weeks in advance.
Canva is a great tool for creating your own banners, images and more for your social media and marketing activities. It also provides stock photos and has cropping, filtering and resizing tools for Instagram, Facebook, Twitter and more. They offer a free plan for anyone to use.
Shutterstock – free resource section
US stock image and video provider Shutterstock has decided to open a free resource centre. The centre includes various professional images available for free download. This is to help businesses worldwide communicate more effectively with their customers during the pandemic. https://www.shutterstock.com/resources
The Write Impression – free communications templates
Suffolk-based Marketing Agency The Write Impression is helping out smaller businesses by releasing a number of free communication templates to help companies better communicate with their customers.
For remotely interviewing & hiring new employees
If you're struggling to hire remotely now, then it's worth looking into Breezy. The free trial includes distribution to 50+ job boards, a branded careers site, interview self-scheduling, GDPR compliance & automation and more.
For looking after your wellbeing
Workguru – free plan during Covid-19
Workguru is an online stress management platform which provides plenty of resources aimed at building mental resilience, managing workplace stress and helping you to enjoy a more rewarding and productive working life.
Its uses evidence-based cognitive behavioural therapy (CBT), positive psychology and mindfulness to help reduce feelings of low mood, anxiety and stress. We think it's a great and very useful resource to take advantage of during the lockdown. Best of all, the service is currently free.
Headspace is a popular meditation app which offers a free plan for anyone to use. The team at Headspace see meditation as both a practice rooted in ancient history and a topic of modern science, and their easy-to-use app can help you and your team find time to benefit from it every day.
We hope this helps
These are just a few tools that we thought might be useful for dealer businesses and SMEs and wanted to share with you.
If you've found any other tools or services that have helped your business at this difficult time, please share with us, we'd love to hear from you!