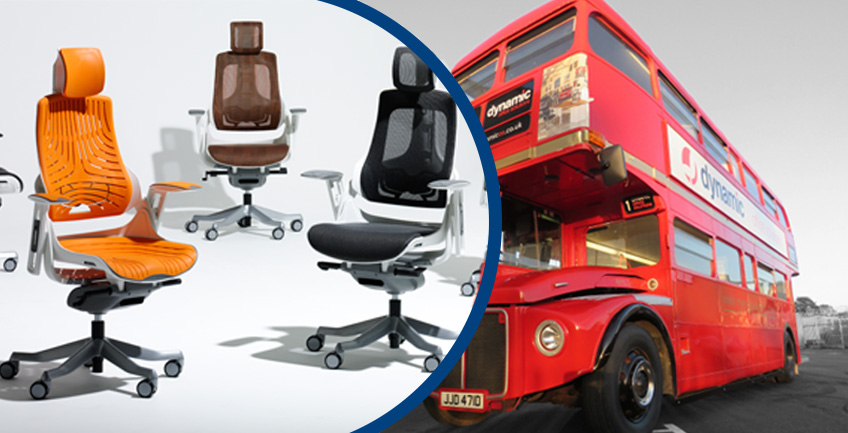 Dynamic Tour Bus Visits Office Power HQ
The Dynamic Office Solutions mobile showroom will be visiting London in an all-day event this Friday right in the heart of the City of London.
The UK Office Supplies business, Dynamic Office Solutions, has created an inventive way of reaching out to its customers by converting a Routemaster double-decker bus into a stylish showroom.
The Northampton based distributor and manufacturer has restored the 1966 classic into a unique space to promote their office seating and furniture range.
The Dynamibus will be parked for the day by the Euroffice HQ, playing host to customer services, sales, merchandising and commercial specialists from the Euroffice group including Office Power and UK Office Direct. The conversion of this icon of British transport included fitting a silent generator enabling the "Dynamibus"to be self sufficient for internal power when stationary. Air conditioning has been installed to keep visitors comfortable.
The fit out also includes a coffee break out area, presentation facilities, sound system and TV, all to showcase the company's new lines, best sellers and product development in the office seating market such as; posture, heavy-duty, operator, executive, visitor and conference seating.
On show will be the new furniture and seating ranges, including the reception counter and Hi Gloss boardroom furniture as well as a selection of soft seating in the downstairs area of the bus. From there, it's up to the top deck to "test drive" an array of Dynamic's industry leading seating designs.
This could be a fun and informative day with Dynamic unveiling its new product portfolio aimed at creating a unique high margin sales solution for dealers.
The Tour bus even has it's own twitter page… check it out below
Author: Brin