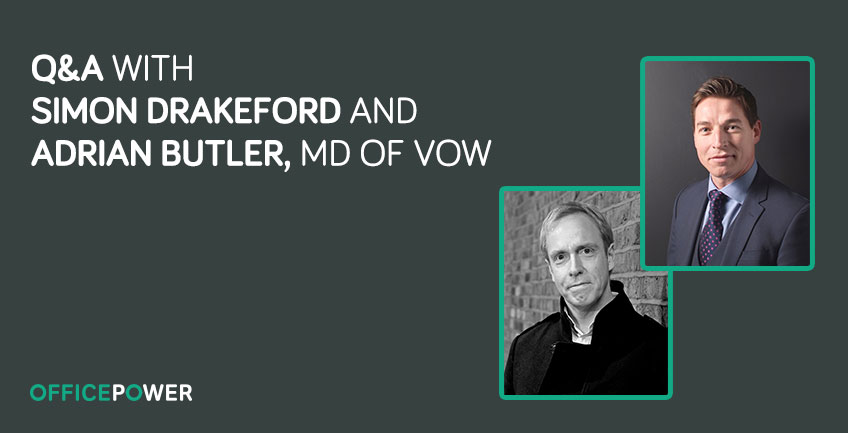 Adrian Butler & Simon Drakeford: a fireside chat about our industry
Recently, Simon Drakeford CEO of Office Power and Adrian Butler, Managing Director of VOW Wholesale discussed their experience of recent months, how they're viewing the big changes in our industry and the effect COVID has had on the sourcing, supply and demand of products.
We've highlighted snippets of some of the most interesting topics which came up in this informal virtual fireside chat.
To watch the full recording of the chat, please login to the Office Power Dealer Community portal. If you'd like your login, get in touch with Chris Armstrong on chris.armstrong@officepower.net or call 07789 004 158.
"A lot more businesses rely on us now and we have to take this really seriously"
Spicers wholesaling operations going into liquidation has left a sizeable gap in our industry.
During the fireside chat, Simon reflected on the time spent as their biggest customer and Adrian commented on the newfound responsibility he now feels as MD of the largest wholesaler in the channel, "doing the right thing in the right way is really key."
The loss of a major player in the field makes all of us weaker, but when asked whether he'd be worried if he were a dealer, Adrian said no.
The landscape is just as competitive for VOW, and the next 3-4 years will be critical in terms of investing in the areas to help dealers grow their share of the market.
"This is A lifeline for dealers who won't be able to afford last mile after things have normalised"
The importance of drop ship delivery has never been more prevalent than now. Adrian noted that before COVID, direct deliveries on behalf of dealers made up 38% of VOW's business.
Now, that figure is 75%, and it's a priority for them to be the warehouse on wheels for dealers.
Simon agreed with this, 'the stronger the wholesalers and suppliers are at dropship; the better dealers can be at creating demand.'
While this is good news for some dealers who already have this model, for those who don't and are expecting a drop in revenue when things normalise, this could be their lifeline.
"It's not personal or based on history. It's ideal business over ideal volume"
The COVID crisis has shone a light on how there's less margin for error within the supply chain than ever, and all businesses within it need to deliver.
Simon and Adrian spoke in more depth about this, including the Euroffice to Vow switchover which took place within just one week, and why the Office Power dealer partner structure works so well for them.
But overall, what's certain is that now is the time for building sustainable operating profit.
"We want to have products on shelves that sell"
Sourcing and selling safe PPE has been at the forefront of every dealer's mind in recent weeks. As businesses return to work, it's vital to have a strong category offering.
Adrian recognised this, but also spoke about the logistics of building a long term 'infection control' category and VOW's plans for delivering on this.
"We're identifying demand for when things settle down, looking at what dealer customers want and how can we get that."
To watch the fireside chat recording and leave your comments and questions, please login to the Office Power Dealer Community. For more information or to request your own login details, email chris.armstrong@officepower.net or call 07789 004 158.