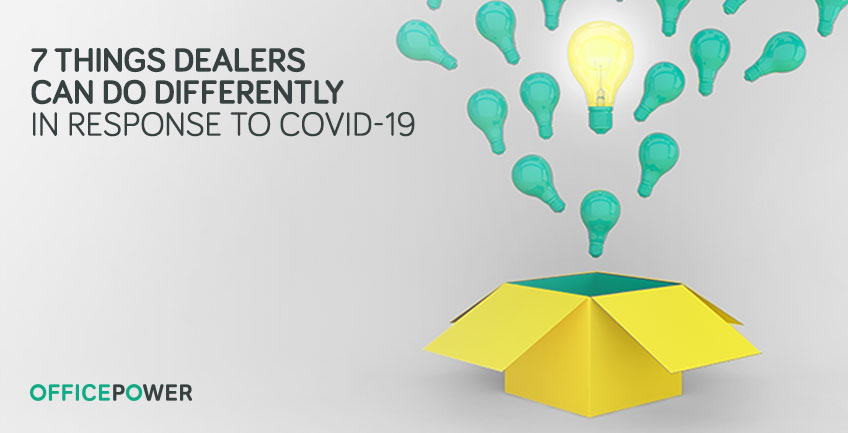 7 things dealers can do differently in response to Covid-19
Very few businesses are immune to the effects of Covid-19, and specialists are predicting that we will feel the financial impact for years to come.
Right now, the country's focus is where it should be – on social distancing, staying home, supporting our key workers and saving lives.
But if you're an office supplies business owner, you've not only got to protect your business for the short term, but think about the months and years to come.
According to BOSS Federation's recent survey findings, a massive 34% of dealers are 'extremely concerned' about the short-term survival of their business. To top this, 38% fear for their business' survival beyond 6 months.
Here's 7 things you can do differently in order to keep your company trading for now and equip it for life in the 'new world' after Covid-19.
1 – Switch as many fixed costs to variable as you can
It's a bitter pill to swallow, but it's highly unlikely that things will return to the way they were before the pandemic.
The 40% of office supplies dealers extremely concerned for the survival of their clients' businesses is an indication of the changes which lie ahead.
So, rapid and critical cuts to any non-vital costs are the first step you should take towards making sure your business sees this out.
Just some of the areas to look at where you can save include rent, warehouses, utilities, insurance, system costs, delivery costs & infrastructure.
Thankfully, the difficult subject of redundancy is temporarily postponed thanks to the Government's Coronavirus Job Retention Scheme. Remember though, this is a short term grant so won't help in the medium to long term. It also doesn't count towards cutting your fixed costs.
We'd also recommend putting together cash flow forecast based on realistic, pessimistic and optimistic revenues over the next 12 months.
The better prepared you can be for what lies ahead, the better you'll weather the storm.
2 – Get your online functionality fit for your customers' new way of working
Something we can be certain of is the changing customer profiles in terms of product mix, average order size (AOS) and delivery locations.
Before SME businesses ordered through a central purchaser for delivery to one address, but now consumers are more likely to be buying for their own requirements while working from home.
It's a good idea to bear these changes in mind and make sure you website has the functionality, tools and products these new SoHo (Small Office Home Office) customers might need.
Larger businesses now need the ability to add multiple delivery addresses and control distributed costs while employees will want a way to easily expense orders to their employers.
Consumer-focused functionalities such as ability to add favourites, save shopping lists and more will also help you better cater to your changing customer base.
Then there's likely to be a need for setting up multiple members of staff under one main account, where the account holder can have full visibility and control of what their staff are ordering – does your system have the capacity for this?
If not you're better off considering your options sooner rather than later to make the most of the emerging opportunities.
3 – Shift your product mix to meet the new demand patterns
We've certainly seen a rollercoaster of demand pattern in the last few weeks, and over a third of dealers reported a considerable disruption to their supply chain recently.
First it was hand sanitisers and hygiene products when the news first broke; then webcams, headsets and ergonomic chairs when we moved to homeworking. Now, PPE is desperately needed by healthcare providers nationwide and is in short supply almost everywhere.
The supply situation is challenging for everyone now, however being able to detach yourself from just focusing on the short-term demand is crucial.
Yes, you should source products that are immediately required, but that shouldn't be your sole focus.
If you think more long-term about the home-worker and how things are likely to change after the crisis, you can make the moves now to provide these categories when the demand hits.
You could also set out a timeline for what you expect to see a higher demand for in the coming weeks, profiling your new customers' buying patterns.
4 – Keep your customer touchpoints more active than ever
The importance of good customer relationships has never been lost on us, but now more than ever it's vital to keep in touch with your customers and prospects.
This doesn't need to be just sales-oriented calls either. Although it's important to try and get orders, what's even more vital is showing support for the customers who've been loyal to you for years.
We'd recommend creating a schedule for this and using a CRM system which supports you to make these calls efficiently.
5 – Think ahead about how you'll fulfil deliveries
The sooner you start to plan about what the long-term changes to delivery patterns will be, the better you can prepare your business to handle them.
When the lockdown eventually starts to ease, it's forecast that many employees who used to work in the office will stay at home.
This might be because their company wants to save on costs, or simply because they've realised that remote working suits them better both personally and professionally.
If you currently have your own drivers, you might need to ask yourself how you'll cope logistically as both the volume of deliveries and the breadth of their locations increases?
6 – Stay up to date with Government financial support
Keeping up to date with what financial support is available now is vital for the majority of office supplies dealers to secure the future of their businesses.
It's also good to consider what the right support for your business is. BOSS has found that extended grant support and business rates relief (78%) and a deferment of VAT, PAYE and NIC payments (77%) are the two most commonly opted for by UK dealers.
We've detailed all the key information on current financial support for small to medium businesses, as well as some useful guidance on the Government Job Retention Scheme.
We also give daily updates and advice on all the latest developments on our Online Dealer Community Portal, which is currently open for any dealers to join (you don't have to be an Office Power dealer).
7 – Consider your options
Times are certainly tough right now and economists are forecasting a challenging long term outlook.
So, we think it's important that dealers consider their options now, plan for the future and communicate widely to gather information on their potential options.
Get in touch
The team at Office Power are experienced and connected both in our channel and also in wider business. If you'd like to talk about your specific challenges or would like help with the analysis for your business, then please do make contact for a confidential discussion.
Chris Armstrong
Commercial Director
Email chris.armstong@officepower.net
Mobile 07789 004 158