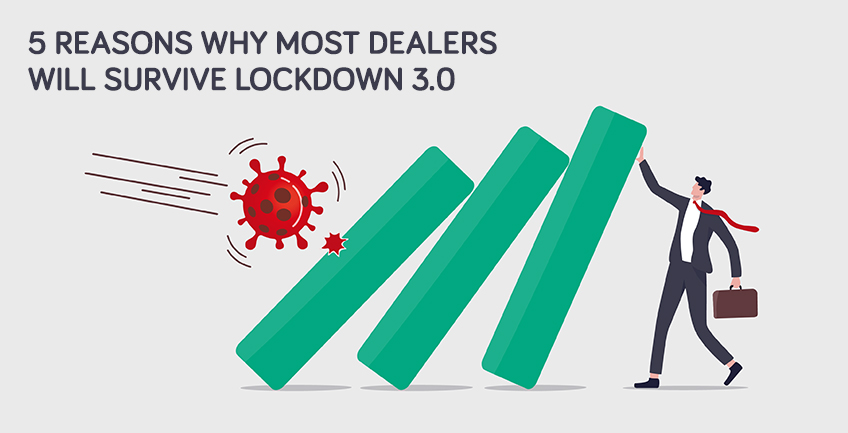 5 reasons why most dealers will survive Lockdown 3.0
As Boris Johnson delivered another nationwide message, non-essential shops, pubs, bars and restaurants closed their doors once more and the number of cases continue to stack up at an alarming rate, we entered a third national lockdown. And we can't help but think one thing: 'here we go again'. But while the newspapers have been reporting it's back to square one, there's good reason to believe that all is not lost. Most dealer businesses who've survived this far will also likely live to overcome this, below are 5 reasons why.
1. We're now operating in a less saturated space
While the loss of any business in our industry is regrettable, it does open up opportunities for the survivors. We've been operating in a market with oversupply for years, and the painful juggle to keep margins high, customers happy and cost prices at bay has resulted in a perpetual squeezing of profits which has undoubtedly niggled away at the health of dealer businesses. Now that we're seeing some reduction in supply (and admittedly demand), dealers can grasp the opportunities that result from this.  But there's still fierce competition out there still and those businesses who have invested in the right areas to meet changing customer behaviours are likely to be the successful ones. Dealers need to question whether they are equipped to see out what could easily become another, more brutal round of survival of the fittest.
2. Our supply chain has already restructured, and we're on good terms
Unlike some other industries, we were hit hard and fast when Covid-19 first graced our headlines. Within weeks, Spicers went into administration, and this led to a dramatic but necessary restructure of the entire wholesale channel. While this disrupted almost every dealer, it now means that the dealers who endured this painful change already have terms with other suppliers, and this strengthens their position. How good the terms are for independent dealers, however, is debatable, but at least the most dramatic changes in the wholesale channel have hopefully already happened.
3. We now have a Brexit deal, and a better idea of what's to follow
The long limbo of uncertainty surrounding Brexit and the possibility of a No Deal is over. This certainty provides an advantage for dealers. But while we have the security of a 1,246-page trade agreement, we've only just dipped our toe into the waters of a non-EU trading climate. Though we might now 'control our borders', this also increases the likelihood of supplier-stock delays and disruption as we adjust. Now is the time to forge relationships with those who can offer your business the support, security and strength to combat the potential negative effects of this.
4. Many dealers have upgraded their e-commerce engines
It's no secret that e-commerce has been on the rise for years, and the days of brick-and-mortar stores, last mile deliveries and catalogues have been fast fading. But with the pandemic came an unquestionable spike in e-commerce and direct deliveries to homes. Lockdown 3.0 poses less of a threat for those dealers who have already moulded their business to this change and upgraded their e-commerce capabilities, CRM systems and configured their contact strategies to meet their customers' new needs. Those in the minority who are only now waking up to the importance of technological advancements in their business are at a far greater risk of being negatively impacted by this third wave.
5. We know where customers are, and what they need
Back in March, finding out where our customers had gone to and what they needed was a real struggle. Although there was some demand for items like chairs, desks and PPE, this lack of knowledge and visibility left many dealer businesses on the back foot, as customers flocked to Amazon to gather essential supplies. Although there are significant downsides to the work from home climate, such as lower average order size, complicated deliveries and decreased consumption of office products, the fact that dealers now know where customers are, what they need and how to reach them is a real advantage. The dealers who are set up to offer direct deliveries, have the CRM functionalities to capture vital information about these customers and harness the tools to meet their needs efficiently are in a significantly better position to see out this period.
The verdict: we are all in the same storm, but not necessarily the same boat
While most dealers have more advantages than they did the first-time around, not to mention the daily race to vaccinate aiming to tip the scales in the country's favour, ultimately Lockdown 3.0 is still a test for every business in our industry. There will be few dealers who will breeze through this difficult period and straight back into their pre-pandemic figures. But those who have the resources, technology and support to enable them to keep fighting the way in which they've done from the start will likely enter calmer waters and more prosperous times in the near future. If you're concerned about how this lockdown might affect your business, how well-equipped you are to survive it or you'd simply like to find out more about what Office Power is doing to support dealers at this time, get in touch with Chris Armstrong on 07789 004 158 or email chris.armstrong@officepower.net.