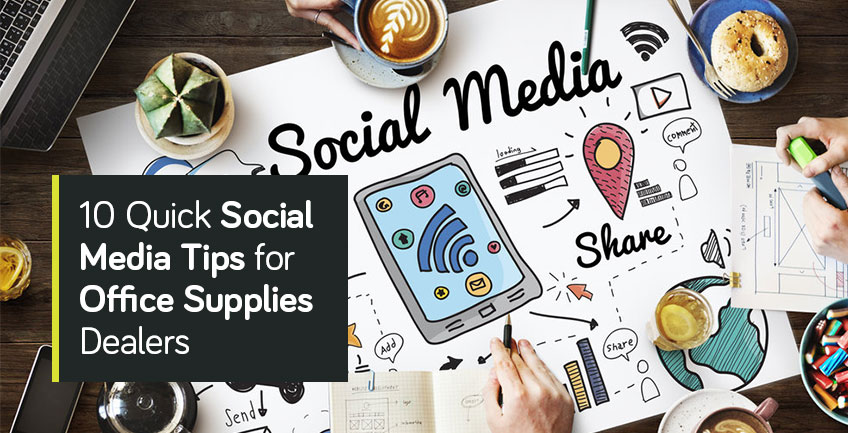 10 quick social media tips for office supplies dealers
Social media has started as a personal communication tool, but today it's an integral part of most businesses' marketing strategies and office supplies dealers are no exception. Here are our top 10 social media tips for office supplies dealers that will help you get quick wins and focus on the most effective channels and activities:
Decide what objectives you want to achieve and how you are going to measure your success before you start.
It's better to have a solid presence on fewer social media platforms, than a weak presence on many. Start with one – analyse, monitor and decide on next steps.
75% of B2B buyers use social media to be more informed on vendors. Make sure that your social media profiles correspond to the brand message you're trying to convey.
Business people are also people, they just happen to be at work. And people are interested in people before business, so make sure your personal LinkedIn profile gives a good first impression. Ensure your picture is professional, your headline describes your business and include a closing call to action with your contact details in your summary.
You don't know who is following you on your Linkedin company page, so don't spend too much time building it. Use the company page as a content hub and make sure you and your staff share the updates from it through your personal profiles.
Plan what to post on your social media – look at what competitors and other companies that you follow do, create a bank of ideas and don't forget to re-use ever-green content.
Always use a professional Twitter photo and handle. Use your Twitter bio as your elevator pitch and maintain a good follower: following ratio.
The lifetime of a tweet is 30 minutes. After 2 hours, your tweet is unlikely to be seen at all. Don't be afraid to repeat your tweets and tweet frequently. Start with 2 tweets per day, monitor activity, and then scale up or down.
Before you start spending money on paid advertising on social media, make sure you calculate the potential return on your investment first.
Remember that by being active on social media you are also providing your customers with a platform for feedback – good and bad. It's good practice to plan your responses to social media comments and complaints.
Ultimately, the biggest asset office supplies dealers have is the relationship with their customer, so if social media activity helps strengthen that relationship, then it's worth doing.
To find out how we help our dealer partners grow their businesses through our technology and support services, please get in touch today: alina.fisher@officepower.net